[ad_1]

Microsoft Corp. is expanding its augmented reality platform to Android and iOS as part of an expansion of its cloud-based business and customer management service platform Dynamics 365.
The overall push, dubbed Dynamics 365 Mixed-Reality, starts with an app named Remote Assist that is designed for engineers working in the field.
Bringing similar functionality to that already available in HoloLens, the app allows engineers to show what they can see to a remote expert who can then use both voice and AR drawing to offer advice and instructions.
Initially, an Android app will only be available but an iOS app may follow depending on demand.
A second app, initially available only for iOS called Dynamics 365 Product Visualize, is claimed to empower sellers to showcase and customize products in their actual environment, "helping create a shared understanding between buyer and seller to accelerate complex sales processes."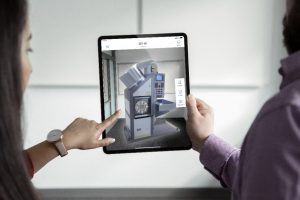 Put more simply, the app uses AR to place a product virtually in a given environment, allowing salespeople to demonstrate how big an item may be and how it may look when placed.
"Using Product Visualize, sellers can show products to customers directly within their Dynamics 365 for Sales workflow and spatial and configuration notes are all saved directly within the associated sales opportunity," Microsoft said in a blog post.
The move to offer smartphone-based AR apps is a shift for Microsoft away from its HoloLens-first focus with the company justifying the switch due to everyone having a smartphone whereas the barrier to entry for a HoloLens is far higher.
As ArsTechnica points out, the choice of platforms also offers somewhat of a class divide in that "customer-facing salespeople get Apple devices, so a sales-oriented tool ships for iOS first; service engineers instead use Android devices, so their applications ship for Android first."
Along with the AR push, Microsoft also announced a number of new apps under the Dynamics 365 AI banner – Customer Insights, Virtual Agent for Customer Service and Fraud Protection.
Customer Insights is designed to offer actionable analytics on customers to help "personalize experiences, retain customers, and build loyalty."
Virtual Agent is designed to deliver an AI customer service representatives to handle common tasks, while Fraud Protection is a new cloud-based anti-fraud solution for e-commerce merchants "designed to drive down fraud loss, increase bank acceptance rates to yield higher revenue and improve the online shopping experience of its customers."
All the new apps will be available as part of the April 2019 Dynamics 365 update.
Photos: Microsoft
---
Since you're here …
… We'd like to tell you about our mission and how you can help us fulfill it. SiliconANGLE Media Inc.'s business model is based on the intrinsic value of the content, not advertising. Unlike many online publications, we don't have a paywall or run banner advertising, because we want to keep our journalism open, without influence or the need to chase traffic.The journalism, reporting and commentary on SiliconANGLE — along with live, unscripted video from our Silicon Valley studio and globe-trotting video teams at theCUBE — take a lot of hard work, time and money. Keeping the quality high requires the support of sponsors who are aligned with our vision of ad-free journalism content.
If you like the reporting, video interviews and other ad-free content here, please take a moment to check out a sample of the video content supported by our sponsors, tweet your support, and keep coming back to SiliconANGLE.


[ad_2]

Source link